Engineering
We have a team specialized in Engineering Software and their proficiency helps our clients to achieve the most economical and structural efficient engineering solutions.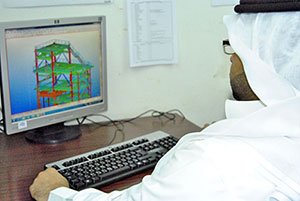 The Engineering department of Zamil Structural Steelconsists of two major Engineering Offices located in Saudi Arabia and Jordan. The Engineering services combine the excellence of technology with sound Engineering skills to result in greater quality steel design and detailing services, management and delivery. Our systems and software's are capable and flexible to handle various requirements of our clients. We have a team specialized in Engineering Software and their proficiency helps our clients to achieve the most economical and structural efficient engineering solutions.
The most suited infrastructure required for a 100 percent CAD environment. Automation has been implemented to achieve accuracy and efficiency in designing & detailing complex structures like Industrial buildings, pipe racks, Equipment structures, high-rise buildings, warehouses etc.
In house developed connection design tools (as per ASD & LRFD) for various codes are used to increase the efficiency and accuracy to produce connection design for various types of complex structures. Design software STAAD PRO is used by highly qualified Structural Engineers for structure design.
State of the art 3D modeling software Tekla structure (formerly XSteel) is being used for steel detailing and all drawings are computer generated. Latest versions of CAD Packages like AutoCAD and Micro Station are also used to provide accurate and high quality drawings to meet customer requirement.
In house design link to Tekla structure being developed to ensure automatic connection design data transfer to Tekla 3D model to make uniform, efficient and error free connection.
CNC Team dedicated to verify & prepare CNC programs and improve the link of CAD to CNC equipments at the fabrication shop to accelerate the production activities by providing error free CNC data.
Fast communication achieved through electronic file transfer by E-mail or FTP (File Transfer Protocol) using internet.
The Engineering department is capable of handling all types of structures in the areas of structural design, connection design, erection & shop drawings preparation including Bill of Materials. The department has a high capacity to produce shop drawings and associated documents by the effective use of computer software's and qualified Experienced Engineers.
The Engineering Department achieves project requirements of delivery by planning work activities, reviewing and coordinating between design, detailing and other internal departments.
The Engineering department uses a piece mark code system which consists of the item number and material finish, code for easy reference during fabrication and erection and cross-checking of the details of the individual piece.
The Engineering department produces computerized field bolt list which gives full details for erection such as quantity, type and finish of the bolt assembly associated with each piece mark and connecting assemblies to identify the correct bolt assembly for erection. In addition, a separate list for erection reference is generated for loose part such as clip angles, splice plates... etc associated with main members.
The Engineering department produces the Piece Mark Tracking Report (PMTR) to track and monitor the progress and status of each piece in the whole project. PMTR also presents status of the different stages of production for each project including: Engineering completion, Production order, Preparation, Material fitting, Welding, Shot blasting, Painting, Q.C. inspection and shipping completion.
PMTR presents the following information:

Shop Drawings numbers
Piece mark of each member
Quantity
Member description
Unit and total weight
Unit and total surface area
Type of material i.e. hot rolled or built up
In addition to the above, PMTR also presents the status of different stages for each job like: engineering completion, production order, material cutting, material fitting, welding, shot blasting, painting, Q.C. inspection and shipping completion.
Zamil Structural Steel engineering department utilizes the latest 3D modeling CAD/CAM system in processing shop drawings, to ensure the accuracy of fabricated steel delivered to the site.