Steel Joists
Open web steel joist (OWSJ) is a lightweight steel truss consisting, in the standard form, of parallel chords and a triangulated web system, proportioned to span between bearing points.
The main use of an OWSJ is to provide support for roof or floor deck and to transfer the load imposed on the deck to the structural frames (beam and column). Using a steel joist and steel deck system for floor and roof construction has proven to be an effective solution resulting in substantial savings.
Over the years, we have established strict quality standards. All our welders, inspectors, and quality assurance technicians are certified. Zamil Steel can design and manufacture steel trusses for a wide variety of special needs and specifications.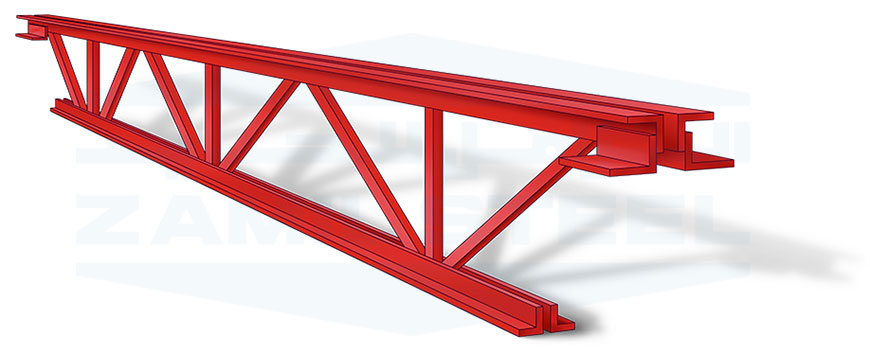 Zamil Steel uses state-of-the-art software for the design of our products, and can accommodate many special design requirements including:
Point loads, Moving loads
Snow drifts, End moments, Axial loads and Slopes
Quality
Zamil Steel is committed to providing a high quality product that exceeds project requirements. All our raw material is certified to exacting standards, our welders are certified, and all of our work is rigorously inspected before it leaves the plant.
As a leader in the joist industry Zamil Steel has hundreds of thousands of steel joists in service - supporting the floor and roofs of schools, factories, warehouses, stores and countless other structures throughout the country.
The shape of the joist may depend on its use and the type of roofing system requested.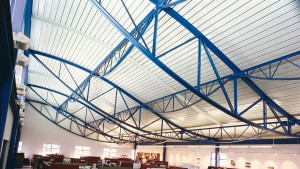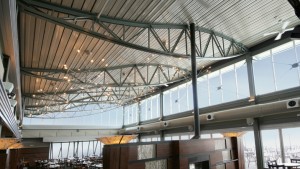 Accessories
To provide lateral support during construction, or for other special needs, Zamil Steel provides a full range of joist accessories including:
Horizontal bridging
Diagonal bridging (welded or bolted)
Knee Braces
Joist Substitutes
Headers
Extensions
Extensions
An extension designates a continuances beyond the normal bearing of the joists. The extension can be the top chord only or the full depth of the joist, in which case, it is referred to as a cantilever joist.
Using Zamil Steel joist and deck system for flooring and roof construction
has proven itself to be a most advantageous solution.
Efficiencies of high-strength steel
Speed and ease of erection
Low self-weight of roof and floor for smaller columns and foundations
Increased bay dimensions, reducing the numbers of joists and columns
Simplifying building erection
Greater floor plan layout flexibility
Maximum ceiling height by installing of ducts through the joist web systems
Easy adaptation to acoustical insulation systems
Floor and roof composition having long-term resistance to fire (As established by underwriters laboratories)