HAMBRO D500 Composite Floor System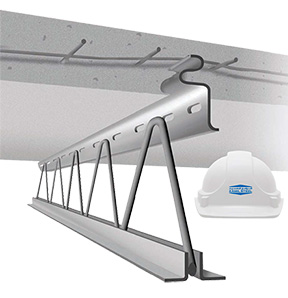 Combining Hambro steel joists with poured concrete, the system consists of hybrid concrete/steel T-beams running in one direction and an integrated continuous slab in the other (see drawing below).
The bottom chord (fy 50,000 psi min.) acts as a tension member in the concreting stage and during the service life of the floor. The web system tying top and bottom chords together consist of bent rods (fy 44,000 psi min.) and resists vertical shear in a conventional truss manner. The patented 13 gauge top chord (fy 50,000 psi min.) acts as a compression member during the non-composite stage. In the composite stage, the top chord is embedded in the concrete and functions as a continuous shear connector. The concrete slab is reinforced with welded wire mesh.
The top chord functions as a high chair, developing negative moment capacity in the concrete slab which behaves as a continuous one-way reinforced slab.
The D500 composite floor joist system is an advanced
up-to-date answer to elevated floor construction challenges.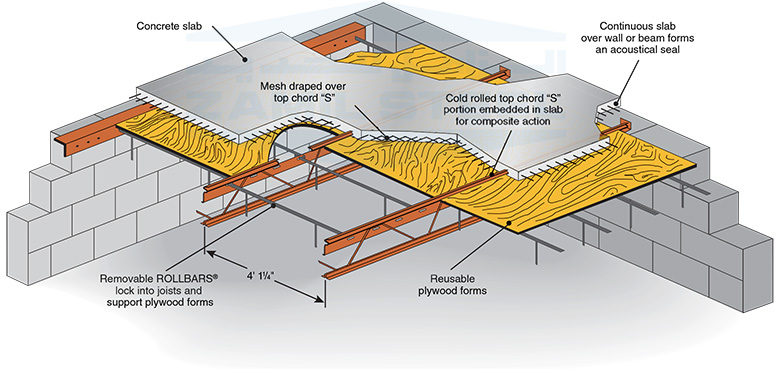 | # | Advantage |
| --- | --- |
| Simplicity | Fast and simple to install |
| Rigidity | Composite design |
| Maximum Duct Openings | Allows chasing of mechanical, electrical and plumbing |
| Fire Protection | UL Ratings with PVC plumbing and duct openings without fire dampers |
| Acoustical Properties | STC 57 / IIC 30 |
| Versatility | Applicable to all types of framing |
| Service | Fast delivery, design assistance, value engineering |
| Economical | Less concrete and reinforcing steel required, longer spans |
Quality
Zamil Steel is committed to providing a high quality product that exceeds both the Steel Joist Institute and project requirements. All our raw material is certified to exacting standards, our welders are certified, and all of our work is rigorously inspected before it leaves the plant. As a leader in the steel joist industry, Zamil Steel has hundreds of thousands of steel joists in service - supporting the floor and roofs of schools, factories, warehouses, stores and countless other structures in various countries.