Manufacturing

Our close proximity to major regional refineries and plants not only facilitates quick delivery but also results in a great saving on transportation costs to both the end user and our EPC clients.
Zamil Process Equipment Company manufactures and delivers high quality fabricated process equipment to both local and international clients. Our commitment to workmanship, cost efficiency and quality have proven the key to our business success. Our highly experienced and motivated workers utilize the latest equipment and machinery (e.g. a cold rolling machine with capacity of 200mm thick) to serve and satisfy our valuable customers.
CNC Robotic Machine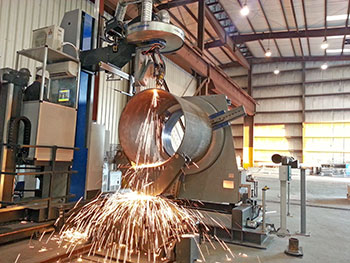 A new state of the art CNC robotic machine has been installed at Bay F5 Fabrication shop. The CNC Robotic Profile Cutting machine is equipped with cutting systems for oxy-fuel and plasma, capable of cutting pipes or shells with maximum wall thickness of 150 mm, OD 3000 mm, 14.5m length shell and dish heads of size 1000 - 3000 mm. The cutting module is consisting of modified cutting head with 6 axis operation, special laser scanning and measuring modules. The cutting torch rotation is 380°.
The machine is operated through computerized PLC programmes, internet-connection, and using COROBS and MOPRO 3D CAD/CAM software. A marking module with inkjet printing is incorporated. For safer use and environment friendly, it is equipped with sensor proximity readers around the machine and fume extraction machine with filter of 6000 m³/hr capacity. Over-all the machine can be effective to speed-up manufacturing of small to medium scale pressure vessels.
Cutting Time
Manual Oxy-Acetylene
Cutting
Koike Auto-Direct
Bevel Cutting
Muller-Opladen CNC
Robotic Profile Cutting
Efficiency of Machine
2-3" Ø
Nozzle Hole
36 mins
11 mins
3 mins
(includes marking)
1200% vs Manual
367% vs Semi-Auto